Open. Invitational. Disciple makers.
We exist to be facilitators of change in our community.
Join us this Sunday in person at 9:00 a.m. in the Fellowship Hall or 11:00 a.m. in the Sanctuary.            Or, for your convenience, join us online for the             11:00 a.m. service.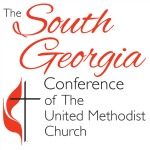 South Georgia Conference Newsletter for January The Link: Bishop Graves' video I Leadership training videos I Virtual Clergy Time Apart I Camp Conne District Newsletter for January january2022newsletterCONF...
read more