More Than Words
Bringing Life to Our Words
June 12, 2022
James 1:15-17
[15]
Then, after desire has conceived, it gives birth to sin; and sin, when it is full-grown, gives birth to death.
[16]
Don't be deceived, my dear brothers and sisters. [
17]
Every good and perfect gift is from above, coming down from the Father of the heavenly lights, who does not change like shifting shadows.
1 John 2:3-6
[3]We know that we have come to know him if we keep his commands. [4]Whoever says, "I know him," but does not do what he commands is a liar, and the truth is not in that person. [5]But if anyone obeys his word, love for God is truly made complete in them. This is how we know we are in him: [6]Whoever claims to live in him must live as Jesus did.
John 13:15-17
[15]I have set you an example that you should do as I have done for you. [16]Very truly I tell you, no servant is greater than his master, nor is a messenger greater than the one who sent him. [17]Now that you know these things, you will be blessed if you do them.
Welcome to Sylvania First UMC!
(912) 564-2747
Admin@sylvaniafirst.com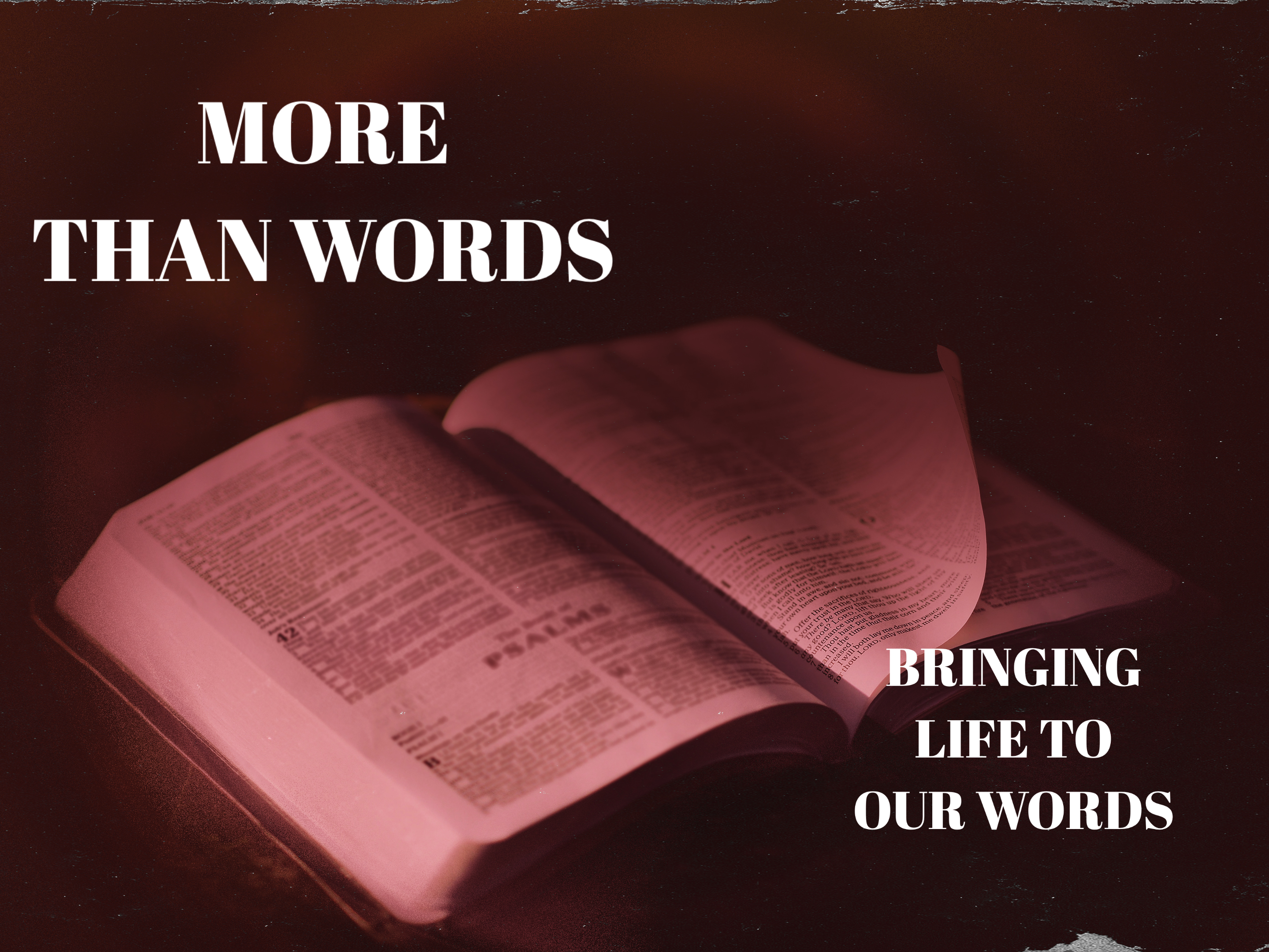 This Week's Announcements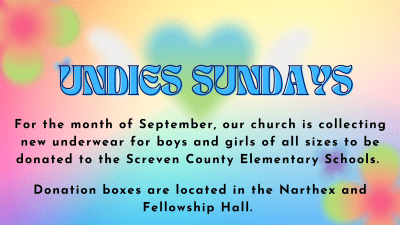 The United Methodist Women are organizing the collection of NEW underwear for elementary aged boys and girls of all sizes. Collection boxes are placed in the Narthex and Fellowship Hall for the month of September. Everything collected will be taken to the Elementary...
[wpv-view name="featured-missionaries"]
This past Wednesday, the children began a lesson series on Daniel. Check out the cute lion puppets that were made by our precious kids to go along with their lesson.
Mark your calendars for our annual charge conference on Sunday, October 2nd at 5PM.
Sylvania FUMC will be the host church for Buck Creek/Blue Springs/Harmony, St. Andrews/Horse Creek, Rocky Ford/Goloid, Hiltonia,Oak Grove, Newington/Black Creek and Bethel Brick.
Refreshments to follow.
As many of you know, the mission of Sylvania First United Methodist Church is to make disciples of Jesus Christ for the transformation of the world.  Early followers of John Wesley were known to be "methodical & systematic" in their approach to growing their faith and making disciples of Jesus Christ. Thus, they were given the name "Methodist".  Over 300 years later, our church, known as United Methodist, are still methodical and systematic in our approach to ministry.  With that said, let me share with you some information about our new church logo.  Please note, the new church logo does not replace the Cross and Flame logo of our beloved United Methodist Church denomination, which we continue to proudly display.
In September 2020, the leadership of Sylvania First UMC began working with Foundry Creative Group, a strategic partner in helping our church in the creation and implementation of a logo & brand package, website, and to update our online strategy to create a stronger digital presence of Sylvania First UMC, which would better reflect our Church's ministry and identity.  After conducting church wide surveys, interviews, and senior leadership consultations, as well as surveying a few key community leaders from Sylvania and Screven County, the Foundry Group identified opportunities for improvement with shared language for community awareness of our missional focus.
Since the logo would be an integral part of this strategy, a Church Logo Team* was formed to work with the Foundry Group in the development of the logo, color scheme & font.
On July 20, 2021, at a called meeting of the Church Council, two significant actions were taken:  1) Approved "re-opening" the church to onsite worship services, which was previously closed to onsite activities due to the Covid-19 pandemic. 2) After a presentation from the Foundry Creative Group & the Church Logo Team, the new church logo, website, and church app, were approved.
The Church Logo Team  consisted of SFUMC members Connie Landrum, Sam Thompson, Brenda Griner, Agnes Brown, Becky Jones, Cherri Hinson, Gee Gee Beasley, and Rev. Dorsia Atkinson
Here are some key things integrated into the new Sylvania First UMC Logo
The Arch Shape: the arch shape represents the stained-glass windows that adorn our sanctuary. These stained-glass windows are now lighted and are visible day and night, both inside and outside the church.  This arch shape represents our connection to the traditions and heritage of our church.
The Cross: This is central focal point of the logo. It represents the resurrection of our Lord and Savior Jesus Christ and how Jesus is the center of our church.
The 4 points of the Cross: Represent our Christian calling to live out the Great Commandment (Matthew 22: 37-39) and the Great Commission (Matthew 28: 18-20)

Love God    2. Love Others    3. Love Myself     4. Make Disciples
The Dogwood Flower: The city of Sylvania is known as "The Azalea & Dogwood City". The Dogwood Flower lays on top of the cross, representing Sylvania First UMC's calling to connect our city to Jesus Christ.
The Dogwood Flower Shape: The Dogwood Flower shape was designed after the dogwood flowers found on every stained-glass window in our sanctuary. Again, this was a symbolic image illustrating the connection of our church to our city.   Look closely at the borders of the stained-glass windows in the sanctuary and you will see 8 different dogwood flowers: 3 at the bottom, 4 on the sides, and 1 at the top (see illustrations 1 & 2). Even the stained-glass window on the stairway landing going to the balcony is full of dogwood flowers. (see illustration 3)
Illustration 1                                             Illustration 2                                           Illustration 3
The 4 petals of the Dogwood Flower: represent four foundational core beliefs of the congregation of Sylvania First UMC.

Believe God     2. Worship God      3. Listen to God       4. Obey God
The seeds of the Dogwood Flower: A seed represents new life and new growth. A seed comes from a flower or plant which has previously lived its life.  A seed carries all the qualities of that flower or plant.  A seed is basically a legacy, passed from one generation to another.  A legacy that is to be planted into new "soil", and then nurtured and given a chance to grow and flourish in its new environment.  The seeds represent the legacy of all the Sylvania First United Methodist members and congregations whose legacy we all stem from.
The 9 seeds inside of the Dogwood Flower: In addition to being connected to the legacy of all Sylvania First United Methodist Members and congregations, we are also connected to all disciples of Jesus Christ; past, present, and future. The 9 seeds represent 9 Biblical traits or characteristics of all disciples of Jesus Christ. These Biblical traits or characteristics of disciples can be summed up into nine "I am a…" statements of focus that the congregation of Sylvania First UMC strives to live out individually and as a community of faith.
a)  I am a New Creation     b)   I am a Student         c)   I am a Servant
d) I am a Tither     e)   I am a Prayer           f)  I am a Messenger
g) I am a Witness     h)   I am a Watchman         i)   I am a Sower
The Colors and Font selection: The colors for our logo were chosen from a more modern color palette in the hopes that it would appeal to a younger audience. The font was chosen for its traditional look that appeals to an older audience.  The combination of the color and font selection captures our identity and continued hope of being a church for people of all ages.
Sylvania First UMC: We are still "First United Methodist Church". However, across the United States, there are thousands of "First United Methodist Churches".  For guests to locate a church they might like to visit, it necessitated the need to change to a "name" that could be easily found on the internet.  By adding the word "Sylvania" and abbreviating the words United Methodist Church it ensures our website will be at the top of the list when searched.
Bishop Graves will be at Richmond Hill UMC on Sunday, September 25th from 4:00 pm – 6:00 pm to meet with laity and local pastors.   The purpose of this gathering is to provide necessary and accurate information around current denominational matters.  Already know a question you would like to ask Bishop Graves? You can submit your questions ahead of time using the following link. There will also be an opportunity to ask questions at the gathering.
https://sgaumc-reg.brtapp.com/QuestionsforSeptember25GatheringwithBishopGraves
The United Methodist Women are organizing the collection of NEW underwear for elementary aged boys and girls of all sizes. Collection boxes are placed in the Narthex and Fellowship Hall for the month of September. Everything collected will be taken to the Elementary Schools in Screven County.
I was hungry and you gave me food. I was thirsty and you gave me a drink. I was a stranger and you welcomed me. [Matthew 25:35]
We would be grateful for the help of any volunteers who can donate their time the morning of October 1st to help us pack the boxes for the soup kitchen to be delivered via the weekly route. We start at 8:30AM. If you're willing and able, please contact Billie Anne Ruel or Don Jamerson.
We're excited about the new signage that's been placed in and around the church. The lit sign in the front of the church has taken the place of the original sign, which will be later relocated on the church property. The Student Ministry Building can now be easily identified, as well as which hall belongs to Nursery & Children and which hall belongs to Youth & College.The plaque acknowledging the donors for the Educational Building renovation has been up for a few weeks. It looks great. Come take a look for yourself! Hanging banners have been hung from the ceiling of the Fellowship Hall and directional signs have been placed in the halls of the church building. All of the money spent on the signage came from a private donor, and for that, we're so very thankful.
As we're gearing up for a jam packed calendar of events as the summer months are coming to an end, it's ever-so important for all to have access to the church-wide calendar. For your convenience, the calendar is now linked to the website. You can find it under the News & Events tab on the home page. This is a way to communicate facility rentals and church committee meetings. You can complete the Request An Announcement form to add something to the Church Calendar.
Wishing all of our students and teachers another exciting and productive school year! We've enlisted God's help for you, and we're praying for your success!!